LASIK
LASIK corrects the way light is bent, or refracted, as it passes through the cornea so that an image is focused properly on the retina, and objects can be seen clearly. During LASIK surgery, a thin flap is cut in the surface of the cornea. The flap is temporarily lifted and an excimer laser beam is used to reshape the corneal stromal curvature. The flap is then replaced in its original position, resulting in a cornea which has been perfectly reshaped to provide clear vision. LASIK is approved to correct nearsightedness (myopia), farsightedness (hyperopia) and astigmatism.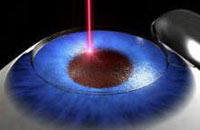 The entire procedure takes only 10-20 minutes per eye, and patients are often ready to leave shortly after their surgery. The procedure itself is painless with the flap healing on its own within several days. Eye drops are taken for a short time after the surgery to control inflammation, prevent infection, and provide comfort. Vision often improves rapidly, and most patients eventually enjoy 20/20 vision or better within several days after treatment. Most patients require no corrective eyewear after surgery, although patients over 45 years old often need reading glasses.
There are certain conditions where LASIK is not the ideal surgical choice, and procedures such as ASA (advanced surface ablation) may be chosen. ASA includes surface ablation therapies such as PRK and Epi-LASIK. The main difference between ASA and LASIK is that in ASA, no corneal flap is created. Instead, a fixed diameter of the superficial corneal epithelium is removed/abraded and the same excimer laser used in LASIK is used to reshape the corneal stroma in ASA. Unlike LASIK, the corneal abrasion created in ASA requires several days to heal. In order to maximize comfort and expedite recovery time, a bandage contact lens is usually placed for up to one week post-operatively. There is often 3-4 days of mild discomfort with ASA and it may take up to 3-6 weeks for the visual acuity to reach its maximal potential. The long-term visual outcomes with ASA are excellent and comparable to LASIK.
LASIK and other types of laser corrective eye surgery are not for everyone. We at Mercer Eye Associates provide a thorough pre-operative evaluation to ensure that patients are good candidates for laser vision correction, with patient safety as our number one priority.
Custom LASIK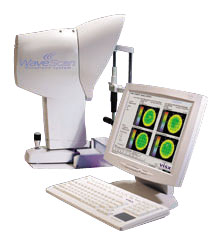 The actual Custom LASIK procedure is almost identical to standard LASIK. However, Custom LASIK uses wavefront technology that is meant to identify and reduce the amount of higher order optical aberrations post operatively. A wavefront analyzer is able to generate a 3-D map of your entire optical system that gives your surgeon a highly detailed view of your individual eye. This is effectively a unique "fingerprint of your vision", and provides us with extremely precise and detailed information about your vision. This customized unique map of your eye is then loaded into the computer of the excimer laser, which generates a customized "wavefront-guided" treatment appropriate for the individual "fingerprint" of your eye. Custom correction can be applied to both LASIK and ASA treatments.