A cataract is diagnosed when your natural lens, which focuses light, becomes cloudy. There is usually no pain associated with this condition, but common symptoms include blurred vision, increased glare, or a "film" sensation over the eye. Cataract surgery removes your cloudy lens and replaces it with a clear artificial lens called an intraocular lens (IOL).

We perform a minimally invasive, small-incision, no-stitch cataract surgery called phacoemulsification ("phaco") surgery. First, the eye is numbed with anesthetic eyedrops. Then a tiny incision is made in the eye to make room for a small ultrasonic probe. This probe breaks up, or emulsifies, the cloudy lens into tiny pieces. The pieces are then suctioned out through the probe.
After the cloudy lens has been removed, a new artificial lens, or IOL, is implanted in the eye. With the recent advance of foldable IOLs, artificial lenses can be implanted through the same small incision from the phaco procedure. Because the incision is so small, it is self-sealing and no stitches are required.

Lens Replacement Surgery featuring Multifocal and Accommodating IOLs
Artificial lenses (IOLs) are implanted in the eye to replace natural lenses for patients with cataracts, presbyopia or severe refractive errors.  Until recently, IOLs were only available to correct distance vision.  Theses monofocal lenses helped improve distance vision after cataract surgery, but patients still needed glasses or contact lenses for near vision activities like reading and playing cards.  Now, advancements in technology have produced multifocal IOLs preserve distance vision and correct presbyopia so cataract surgery patients can enjoy clear sight without relying on glasses.  Accommodating IOLs provide excellent distance and intermediate vision with reduced dependency on glasses for near focus. 
The procedure to replace a patient's natural lens with a multifocal IOL or accommodating IOL is the same as that used in cataract surgery.
ReStor® and Tecnis® Multifocal Lens
The ReStor® improves beyond standard IOLs by providing comprehensive focusing capabilities so patients can see clearly in a range of distance – near, far and many distances in between.  There is a slight increase in glare symptoms with night driving.  However, most patients tolerate this glare without difficulty.  Most patients are spectacle free after multifocal lens implantation for distance and reading.
Crystalens™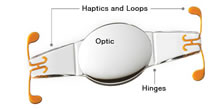 Crystalens™ is an IOL that works naturally with the muscles in the eye that retains the eye's ability to "accommodate" – to shift focus between nearby and distant corrective eyewear to see clearly at near and intermediate distances.
Unlike rigid lenses, the flexible silicone Crystalens™ features innovative hinges that allow it to move with the eye's muscles and accommodate seamlessly, thereby reducing the need for vision correction. The Crystalens™ is implanted using the same, nearly risk-free cataract surgery techniques as with other IOLs.
Lens Replacement featuring Toric IOLs
Patient with high astigmatism are not good candidates for mulitfocal or accommodating IOLs.  For patients with high astigmatism, we recommend toric IOLs to provide maximum uncorrected distance vision.  Patients with toric IOLs still need glasses for reading. However, most patients with toric IOLs drive and watch TV without glasses.  A patient who has a high degree of astigmatism and chooses a monofocal or standard IOL will require glasses full time for distance and near.