Corneal Transplantation for Corneal and External Eye Diseases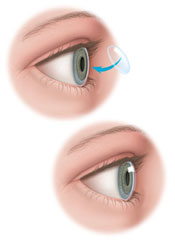 The cornea is the clear covering on the front of the eye which bends, or refracts, light rays that focus on the retina in the back of the eye. A clear cornea with normal shape, curvature and water content is required in order for light to focus an image exactly on the retina, rather than in front of it or behind it. The cornea may become diseased or damaged through several different mechanisms, including hereditary corneal dystrophies, infection, inflammation, corneal edema, trauma, and keratoconus. Any one of these conditions may ultimately lead to a drop in vision.
An improperly curved cornea, or one with mild scarring, swelling or surface irregularity may be treated medically or with a non-invasive therapy to improve the level or quality of vision. For more extensive corneal disease, various surgical techniques such as corneal transplants, or corneal surface reshaping procedures may be required to improve or restore vision. A thorough eye examination and consultation are necessary before a treatment decision can be made.
Corneal transplantation, or keratoplasty, is recommended after exhausting all possible non-surgical therapies. Surgery may be indicated due to an irregular corneal curvature that is uncorrectable with glasses or contact lenses, or when infection, scarring or swelling has caused sufficient damage to impede vision. Corneal transplantation may be either full thickness (Penetrating Keratoplasty) or partial thickness (Endothelial Keratoplasty). Decisions regarding which procedure is required are often dependent on the depth of corneal pathology. Recent surgical and technological advances have allowed partial thickness surgery such as Descemet's Stripping Endothelial Keratoplasty (DSEK) to gain popularity as a successful alternative to full thickness transplants for conditions such as Fuch's corneal dystrophy, and pseudophakic bullous keratopathy (PBK). Common conditions that may require transplantation are:
Fuch's Corneal Dystrophy
Bacterial or Fungal Keratitis
Severe Corneal Ulceration
Herpes Simplex Virus (HSV) Keratopathy
Pseudophakic Bullous Keratopathy (PBK)
Keratoconus

Corneal Dystrophies
Traumatic injury
Ocular surface diseases
Chemical burns
Corneal Scarring
Corneal transplantation involves removing the damaged or diseased cornea, and replacing it with a clear, healthy donor cornea. In full thickness or Penetrating Keratoplasty (PK) the donor cornea is "grafted" or sutured into position with fine nylon sutures. In partial thickness endothelial keratoplasty (Descemet's Stripping Endothelial Keratoplasty - DSEK), only the deep layer of the cornea containing the vitally important endothelial cells is transplanted. The donor cornea is held in place with an air bubble inside the eye. The air bubble usually dissipates within the first 48 hours after surgery leaving the donor cornea in the correct position. Unlike PK, DSEK is a small incision surgery requiring only one or two temporary nylon sutures used to secure the wound.
Keratoplasty is a common procedure in the United States and is performed on an outpatient basis, often under local anesthesia. It is the most common type of transplant surgery, and enjoys an extremely high success rate. Unlike other transplant surgeries, blood type does not need to be matched, and no oral immunosuppressive medication is needed. While it is possible for the donor cornea to be rejected at any time after surgery, episodes of rejection may often be managed by topical eye drops alone.
Recovery from corneal transplantation varies based on patient age, pathology, and type of keratoplasty performed. For full-thickness or Penetrating Keratoplasty (PK), the immediate healing period may be 4-6 weeks. Many patients will notice significant visual improvement within the first three months, although maximal visual acuity may take 6 months to 1 year to achieve. Post-operatively, eye drops are used to prevent infection and rejection, as well as to manage inflammation. Over the course of the first year, corneal sutures are removed to help regulate corneal curvature and maximize vision. Glasses and/or contact lenses may be required to help achieve best-corrected vision after surgery.
Recovery from partial thickness endothelial keratoplasty (DSEK) is often faster than full thickness surgery with maximal visual acuity often achieved within 4–6 weeks. This small incision transplant surgery often requires only one or two temporary sutures usually removed within the first month. As with full thickness PK, DSEK patients also require eye drops post-operatively to prevent infection and rejection, as well as to manage inflammation. Again, glasses and /or contact lenses may be required in order to maximize vision after surgery.